Important project need!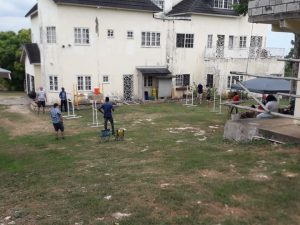 Window Project – Goal $3,000
With rainy season just around the corner we have a bit of a challenge facing us. For the last ten years we have been trying our best to replace windows as we could. Currently we have over 20 windows that have to be replaced immediately on our 4 story main base building. We had a slight rain this weekend and our floors were flooded. Each window is an average of $150 each. If anyone is able to help it would be greatly appreciated.
We Can Build a Dream!
It just takes you!
Step out and see God use you in unimaginable ways!
This project's purpose is renovating a property we have leased that has been abandoned for the past 20 years. The building is located in West Kingston, right in the center of where we minister to most of the children and youth. For the last six years, we have been believing God for a place to call our own to start The Kingston Dream Center. Until now, we were not in a position to make that happen; we have been pushed from one building to the next, meeting with these precious children wherever we could find a spot, even open fields. Recently, an opportunity came to us to lease a property for 15 years, for just $1 per year. I am thrilled to tell you we have secured the building for the next 15 years.  The lease is paid-in-full, and now the real work begins.
A building sitting abandoned for 20 years means that anything that was not tied down (and many things that were), were "relocated" to other people's property.  The building was also used as a bathroom and trash dump. Fortunately, the walls are still there! These scenarios mean a major work project. We have started working diligently to renovate as much as we can as fast as we can. A missions team came to help with the labor, and they also raised $3,000 to get us started with purchasing needed supplies. Another ministry also sowed a financial seed to help the renovation get moving. So far, over $7,500 has been donated towards the renovation, and we've used all of it in just one month. A lot has been done, including much of the clean up, installing a new roof (including trusses), and purchasing paint, some plumbing supplies, and electrical supplies. The best part is, many of the community youth and children who will be blessed by the operation of The Dream Center have been helping us with the work!
We need teams that will come and use their gifts to pour into the future generation of world changers. Skills needed: welders, masons, electricians, plumbers, painters, and people who love to play and interact with children. Everyone has something they can do; please step out and let God use your gifts like you never imagined!
Contact us now to schedule a time to come help build The Dream Center and reach the youth of West Kingston.
Pass the word, and let's get this done!
Books available by Yvonne Stewart
Written Word:
Linking the Covenants: A Year Long Study Journal
What In God's Name Are You Doing?