Ambassador Overflow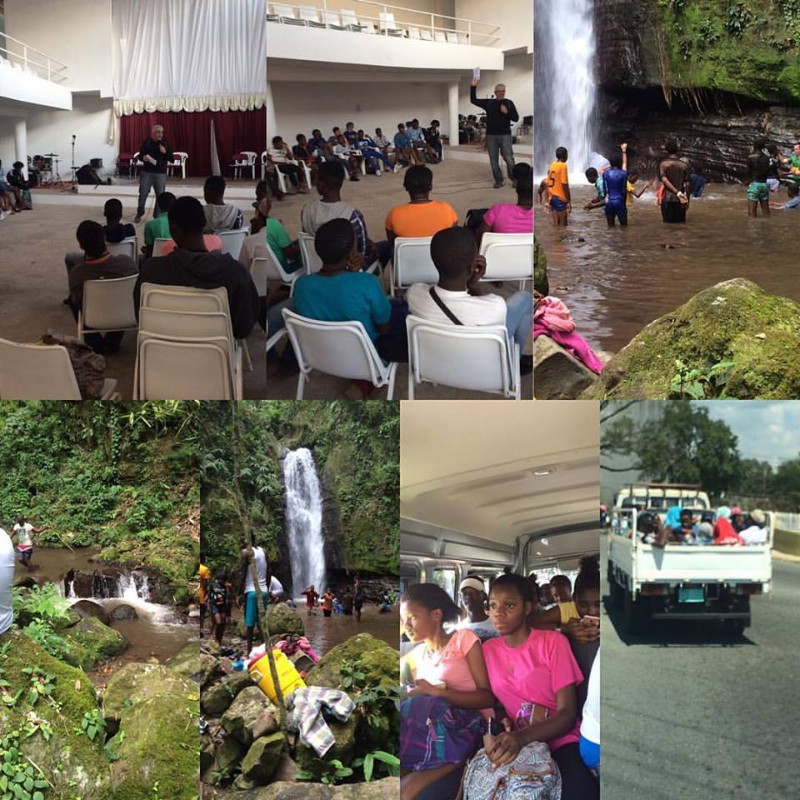 Dear Friends,
May the blessings of grace and peace be upon you!
I am sure everyone is excited at the new things that are happening around each of us in our daily lives. I am taking this moment to share a few things and to catch everyone up as to how things are going with us in Jamaica and the ministry. It is hard to believe that Easter is just around the corner and many will begin looking forward to summer vacations. This year has found us in a very great place. Who, as you are reading this, would pause and think about your own life and testify, "Yes, I am at a very great place!"?
Am I saying that things have not been, or are not, challenging? No, not at all. Am I saying that everything is all roses and chocolate? Of course not. What I am saying is that the revelation of God has never been more abundant. That I have never been more reliant on God to bring us through. That I am excited to see growth and transformation in the people we are working with. We are pouring out more and more, we are digging in more and more, and we are trusting God more and more. If you have not seen a pattern, it's the "MORE AND MORE!" One piece of encouragement: no matter what is happening around you, choose to line up with Jesus and His final word. Because that alone will bring you through!
During the past few months, we have been experiencing explosive growth in The Ambassadors. As I shared in the last newsletter, we had done everything we could think of to get the youth to invite their friends, with little success. At the first of the year, God gave Yvonne a Divine idea and we implemented it; it was like Jesus said, "Throw the net on the other side of the boat," and we said, "Yes, Sir." We have literally had bus-sinking, net-breaking loads of youth coming. Last year, our average pick up from the inner city was 8-12/week; over the last three months, it has been 30-55/week (starting at 30 in January, and now at 55). Remember, we have one 16-passenger van that we have been running non-stop. You know when we have 32 people in the bus, we aren't using seat belts—we use human beings to hold each other in place.
For over a month, we have hired another 15-passenger bus to help transport on Saturdays, but it's still not enough. Two weeks ago, we used three vehicles to transport, with 18-20 in each vehicle (which is still more than is comfortable). The youth are coming and they are hungry for Jesus. Let me share a few testimonies from the weekends. Last week, 35 people came to the altar to say they wanted to experience Jesus and know Him in a real way—and not just as their Savior but as the one who has given them everything they need for LIFE and GODLINESS. Yes, godliness. Youth desiring godliness?—come on that is enough to shout about! The week before that, 13 asked Jesus into their life. The week before that, 6 salvations; and before that, another 3. So in just a matter of a few weeks, over 20 people have made a public profession of faith in Jesus Christ as the Way, the Truth, and the Life!
A couple weeks ago, we took the youth high up in the hills to bless another church with a work day for their building program. We had to actually limit the amount of youth that could come; even so 56 people went that day. They came to work without pay, just to bless the community. All of this has been really causing me to wonder, "What are you doing, Jesus?" So I asked one of the youth, "What do you see happening?" He replied, "Each week I have lines of youth coming to sign up at my house to come on Saturday, and I get a list together. But the next day some of those that are first-timers come back and ask if their friends can come as well. So Pastor T, I'm sorry about all the youth that are coming; I guess I will have to start telling them they can't bring others yet." I said "No, keep telling them that they can come—God will make a way." I asked another youth, "Why do you think so many are coming?" They said, "Pastor T, the truth is they come once and they just have to keep coming back. There is no other place they are really loved and accepted; and there is no other place that they can really understand what the Bible says." I said, "What do you mean?" He says, "When you preach, you do it in a way we understand." Thank you Jesus!!!
Just last week, one youth stopped me and said, "Pastor T, I think we are going to have to limit who can come. I'm thinking we will tell some of them they can come this week, and others the next week, and then others the next week. Let them rotate since we just don't have space for all of them in the busses." I said, "No, we will not do that! Invite away! God will take care of the rest."
Let me ask you, in what world should we ever say to a child or youth, "You cannot come to the one place you will hear about Jesus, be safe, and know you are cared for?" Let that never be said! So what are we doing? Well, we believe God. We are not slowing down. In the same season that we believe God for the food for our own family, we are committing to feed the youth, we commit to transport the youth, and we commit to not leave one behind! So how can you join this effort? We found a used bus with 29 seats, which we can purchase for $25,000. But we must act now. To purchase cars here in Jamaica it takes over 45 days and it is imperative we get the ball rolling.
In the meantime, we still have to get the youth back and forth, and the only way we can presently do that is by hiring a bus. Each trip with the 29-seat bus is $70. So that times weeks gets expensive fast.
These last few months' things have been tighter financially than in a long time, but we continue to do all that God lays on our heart to do. Feeding, serving, imparting, bussing, and blessing—we are never restricted by our finances; we are only restricted by our obedience to Jesus. So as we work in the fields, we invite you to partner with us to bring in the harvest.
But Jesus said, "Let the children come to me. Don't stop them! For the Kingdom of Heaven belongs to those who are like these children." Matthew 19:14
For His Kingdom,
Travis, Yvonne, Russell, and Raymond